I didn't end up putting up a post last Wednesday and I just really hadn't gotten anything done.
I sure haven't done much this past week either.
I am way behind on making my yo-yo's now....so much for that 365. I didn't even think to take a picture of what I do have made.
I did finish one thing this week....not in my 17 UFO's in 2017 challenge. A lady at the bowling alley requested that I make her bags for her bowling shoes. Working on the fly with no pattern, they came out pretty well and she loved them.
Last week was sewing day at church and I got just a few more polyester 9 patches done on the top I am hand sewing.
Friday evening was sit n' sew at the quilt shop. I got out the Arkansas Crossroads quilt top that I've not worked on for months now. I had to reorganize, but did get 7 more blocks made for it
I have over half of the hand quilting done on my challenge for quilt guild. This is a must to finish by the end of this weekend as it's due on Monday! Wish my luck.
I link up with the following blogs: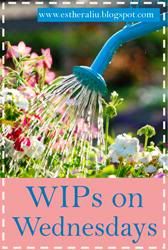 Jo's Country Junction:
http://www.joscountryjunction.com/
17 UFO's in 2017: