I finished my challenge quilt for quilt guild, but I can't mark it as finished yet. There are so many mistakes and I need to rectify those.....especially before it would hang in a quilt show! The plan is to have a section at the Wichita quilt show next year to display our guild's challenges.
Here is mine, still counting as a WIP since I'm going to work on it more.
Sadly, the only other thing that I managed to work on at all last week (while trying to finish the challenge) was to get one step further on my red string quilt blocks. Obviously I'm not going to be doing this months color at the soscrappy blog (which isn't really a color, but instead to use up the fabrics that have so many colors you don't know what color they really are)
The good news is that I will be at a quilt retreat Friday and Saturday. My trunk is packed with my machine, projects, and supplies. I can't wait for those hours of dedicated sewing time!!
I link up with the following blogs: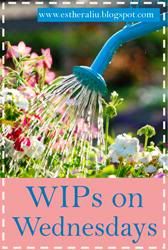 Jo's Country Junction:
http://www.joscountryjunction.com/