I didn't end up getting a WIP post written last week, but did take a picture or 2. Unfortunately those projects stayed the same too....or was it just one project.
What is making me a bad girl as I put in my title? Well......I have started a new project. I promised myself I wouldn't as I have my list of 17 that are my goal to finish this year first.
With my oldest daughter and her children getting their own house, you can see the living room floor now. I just couldn't help myself but want to get started on trying to make a penny rug. I first seen on this blog post:
http://www.patchworkdreams.com.au/?p=9261
and have been itching to try to make one myself ever since.
I'm still cutting the circles, and I know this isn't a quick project, but I am hoping to have it done fairly soon.
Of course I am still making 3 yo-yo's a day for my 365. That fabric in my box still doesn't seem to be really "going away".
I got a start on my red string blocks for the color of the month with the soscrappy blog. Actually I'm a step further as I sewed these down and pressed them open. Unfortunately they didn't get done before this month is over, but, hey, at least I am back to work on that quit.
Lastly, I do have the backing made for my challenge quilt and the binding made. With any luck at all, I will have this finished before next Wednesday. Wish me luck!!
I link up with the following blogs: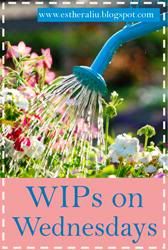 Jo's Country Junction:
http://www.joscountryjunction.com/