This week I didn't take a picture of the selvage rug. I did add about 10 strips too it though.
I'm still working along on the yo-yo's. I might be seeing a dent in the fabric in the box as the bags fill up.
My challenge quilt is coming along. This picture I made I put on myLot asking opinions on which way to put it together. I have chosen now and ready to get started ASAP. Busy days away from home and even out of town will prevent me from doing too much though. I'm sure hoping it will go together the way it's supposed to!
I have 2 projects roaming in my head that I want to START! Start meaning they are not a UFO yet. I'm trying really hard to be good and work on the list of 17 that I chose for the 17 UFO's in 2017 challenge. Again, my list can be seen in the right sidebar.
One last thing..... Last week I posted a book on amazon saying it was the book I am using that I got my pattern from for the paper pieced stars. I put in the wrong book, so here is the one that I am using:
And, I link up with the following blogs: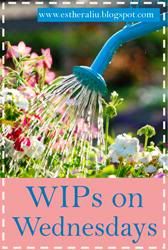 Jo's Country Junction:
http://www.joscountryjunction.com/