I actually worked on something else other than the rug and yo-yo's this past week, believe it or not.
Actually, I didn't do anymore work on the rug other than adding more selvage strips to my bag.
I am still keeping up with my 365 of making 3 yo-yo's each day. My pile of fabric still doesn't seem to be going down, and I'm getting more anxious to start putting them together.
Sit n' Sew at the quilt shop was a go and I actually got some work in on my paper-pieced stars for my guild challenge. Not much, and I sure hope to find time soon to get my sewing machine out at home to work on them some more. If I don't, this project will not be done by the end of April!
Yesterday was sewing day at church. This project is not part of my 17 in 2017, but something I can work on for awhile at church. Someone donated a box of these polyester squares. Some were already made into 9 patches, and hand sewn. I'm going to attempt to finish them off into a top by continuing the hand sewing.
And here are a couple of pictures from our community service work day at quilt guild that I wanted to share. We finished over 30 quilts that day in addition to a large number of items that were already completed and given to First Call for Help. With so many quilts we decided to send some of them to other agencies as well.
I wish we could have more days like this.
I link up with the following blogs: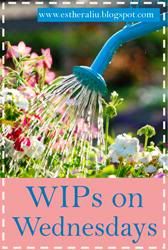 Jo's Country Junction: http://www.joscountryjunction.com/