I finally got my sewing machine out and worked on the star challenge project for quilt guild. I got 3 more of the 16 squares done. Changed my plan a little on what I am doing with it and look forward to working more on it this week!
I am still making 3 yo-yo's a day for my 365. I'm getting more anxious to start putting them together into the 3 projects though. I will keep on making before doing so. Once I feel that pile of fabrics are showing less to me.
I even got more done on the selvage toothbrush rug. I'm thinking that as long as I keep working on it while we bowl on our league that it will be done before the league ends in April. Every week people come over to see what I am making and admire it.
Again, you can see the list of the 17 UFO's I have chosen for the 17 in 2017 challenge in my right side bar here.
I link up with the following blogs: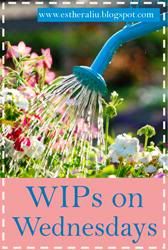 Jo's Country Junction:
http://www.joscountryjunction.com/