Cutting fabrics is all I got done over this past week.
I started out looking through my strips and scraps to look for purple for the soscrappy blog challenge.
For the quilt I want to make, I am doing quilt as you go. So I also looked around for fabrics I could cut for the back squares as well as the batting. I will be making strip blocks in colors.....something I've been wanting to do for a long time, so it's about time I get started on them.
I was just going to cut what I needed and go on, but figured I really should just cut all of the scraps into usable pieces while I was at it.
You can see in my picture that I cut 10 inch for hotpads, a few extra 12 inch squares, 5 inch squares for later use, and 5 inch squares for coaster sets. I ended up with a few skinny strips for doll rugs, and some strips for toothbrush rugs. I ended up with a pile of strips for later string blocks too.
Not pictured are the 10 inch cotton batting that I cut for the hotpads and the pillowcase that I started filling with small pieces for making a dog bed.
I actually do have a progress picture to share on the crazy colored quilt. It's a cheat shot that I saved for this week just in case I didn't get anything done. I actually added the other 2 rows on during the quilt retreat.
UFO's:
Rectangle quilt
challenge wall hanging
Hexagon quilt
Emerald Island Fusique table runner
Five and Dime quilt
Brown half square triangle table runner
3 sets of doll blanket, pillows, bed and rug--plus more to sell
Wall hanging for quilt guild
yo-yo's that need to be made into projects
black and white rail fence quilt
Arkansas Crossroads scrap quilt
T-shirt latchhook rug
Rainbow colored locker hook rug
Blue and Brown yo-yo table runner
Charming Stars quilt
Special crocheted prayer shawl
Fall Squares table topper
Crazy colored quilt with the five and dime blocks
Rainbow colored string quilt
I am linking up with the following blogs: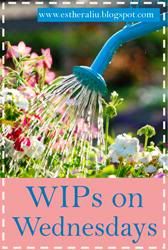 Here's some fun stuff for quilters: