I've been thinking a lot lately about amazon, and happy that I have so many ways to earn it. Many times it's saved me (or our cats) when it's all I had available to order
cat food
and
cat litter
. Those 2 things are why it's on my mind lately......I will be getting most all of our cat food and cat litter through amazon now due to finances.
I'm an
amazon prime
member, and LOVE the free shipping! If you order on any regular basis, the $99 yearly is well worth the price plus you can also stream movies and TV series as well as get free apps, music downloads, and kindle books as well. (I don't ever have $99 at one time so I do pay a bit more per year, paying $9.99 a month)
Years ago I ordered my very first
laptop
through amazon. It was the most expensive item I've ever saved up for as it was over $400.
Another larger purchase was my tablet--
My latest larger purchase that I saved up for was this sewing machine--
Earning
-----There are loads of ways to earn amazon and today I am going to share with you the different places that I am earning it.
Swagbucks
--- This is where I earn most. So many ways to earn with swagbucks (search, watch videos, shopping, codes, and so much more). You earn SB which each SB is equal to 1 cent. Once a month you can choose a $25 gift card at just 2200 SB, saving you 300 SB. (Then once a month I also redeem for $25 paypal for 2500 SB)
PerkTV
--- PerkTV is the main app I use from this company, although I also have their word search app, scratch and win app, and screen lock apps on my phone as well. With the main app, you watch videos to earn points. There are many options available for cash out, but I choose amazon. 5000 pts is what I cash in at for $5. (Use the code 860efbf6 for 50 bonus points when signing up)
ReceiptHog
-- This is an easy app, just scan your receipts and earn. Also available to redeem for paypal. (Use the referral code flend875 to receive bonus spins on the slot machine)
Chatabout
--- Easy to earn points chatting about topics that interest you, but also other earning opportunities such as the daily poll, entering a sweepstakes, watching videos and so much more. Just 1000 pts for $5. (they also offer paypal)
Lucktastic
--- If you like scratch off lottery tickets, you will love this app. Several choices to redeem, but I have gotten over $100 in amazon alone from this one.
Bing Rewards
-- Search to earn points and trade them in for amazon or other gift cards. Also other point earning opps each day.
Apptrailers
--- free app to watch videos and earn. Although I usually get paypal, I have also chosen to get amazon here as well. (if you sign up, bonus code predictableuranus2 for bonus points)
Checkpoints
-- Watch videos, check into stores, and scan items at the stores to earn with this free app. Just 335 for $1 amazon and it's sent instantly. (if you sign up, use code marsha32 for bonus points)
Pistol Packing Mama
--- I even belong to this traffic exchange where amazon is an option to redeem, and that is what I will go for! You earn by surfing websites of others (at the same time getting your own websites seen), putting in daily codes for extra earning each day, prize pages while surfing etc.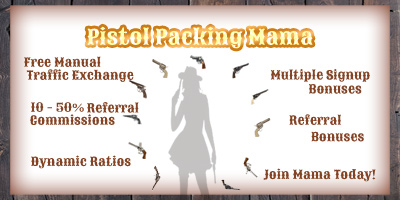 As I said, so many different ways to earn amazon online and with the apps, but these are the main ones that I use. Happy Earning!
P.S. ---- When shopping through amazon, check programs you are already doing online to see if your purchase will earn you extra with that website. Most times it's a few categories only that you can earn for shopping from, but please check.
If there isn't an earning opportunity, it's always nice to order through someone's affiliate link and help them out to earn a bit as well.
If we all work together, our dreams can be achieved.