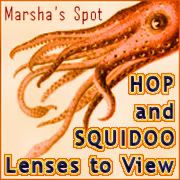 Another week has gone by and more squidooing to be done.
Payday added to my reserve hopper about the same as the month before.
I know it will be at least September before I will see a difference from my updating each day. October will show my efforts even stronger. I'm anxious.
What I'm lacking is sharing my lenses through the many social networking sites. I've been trying to do better with that this month.
I've been struggling to figure out how to update what they call the lenslets. With only so many modules available to put in it's not easy for me.
My thoughts are changing out an amazon product.....adding info into the intro on the charity that a portion of the earnings are donated to.....adding photos where appropriate to a gallery.
If you have any other suggestions please let me know.
I've not messed with them enough yet to know if we can put things in the side since the lenslets now appear to look just like the other lenses when opened.
I'm going to continue to add 2 of my lenses to the weekly linky that are just below the 85,000 rank. It's exciting as each week I have to scroll further down my lens list to get to those!