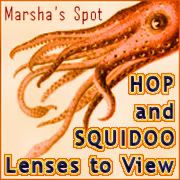 Good Thursday morning to everyone!
I hope it's been a good squidoo week.
I have had a few sales, so that excites me.
Payday might just be tomorrow too....again, that excites me.
I managed to do a little updating to lenses this past week. What I need to learn to do more is promoting. It doesn't matter how busy I am, I must take time to promote!
It's been a hit and run week.
How are things for you in squidoo land?