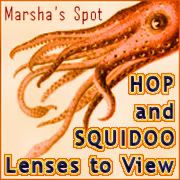 Another Thursday is upon us. The days sure pass by quickly for me anymore!
I did get to updating 2 of my lenses yesterday that needed the amazon links taken care of. Both are some of my This Day in History series. (Some day I really do want to complete the series with all 366 days of the year!)
One was easy, it only had 22, so choosing 2 amazon to remove wasn't hard at all.
The other one had 32 amazon links, so choosing 12 to remove was a little more tricky.
How is your spring? We just had a heatwave for 4 days here in Kansas with temps between 97 and 100! We thought we had gone from winter straight into summer, but it's cooler now. The next week or so highs are to be in the 70's and 80's.
I do admit to loving the heat, but now looking forward to the break from it for a bit. 100 degrees sure beats being cold for me.
I look forward to what you will share with us this week.