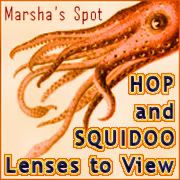 Here it is May already. This year sure is flying by.
The past few days we've had some pretty chilly weather and lots of wind. Many places had tornadoes.
Hopefully you forgot about the squidoo goal I wrote about last week since I didn't even touch it.
No real excuse other than just not doing it. Sure, I'm busy with half a dozen or so other things in my life and online......
I've been in and out of squidoo a lot looking at lenses of others, just didn't do anything with any of my own.
I still have my lists of all the different ways you can update. I really do want to get back to doing some of those each day. I'm sure it still holds true that updating ups the rank of the lens some for a bit.
This week I won't tell you what I plan to get done.....and then I can surprise you next week.
I am wondering if any of you know? I have those 4 lenses that have the best of mark beside them on my dashboard, but the top of my dashboard has a 0 for how many best of that I have?
I went to the HG post on it but comments are closed.