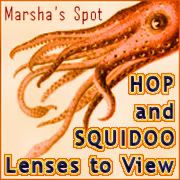 Good morning! I hope this post finds you with Spring weather. We actually had thunderstorms last night. It's still a bit cool out for me.
I updated one of my lenses this last week.....one that I hadn't gotten to yet to pick and choose the amazon products so there would be 20 or less.
While there I noticed that I didn't have links to the photos and such within the modules. What I found is that I linked the picture itself.
Going to each one I found that they are all either in the public domain or in wikimedia commons.
Is this enough, or should I go back and edit it to include the information and link in the module?
In a rush today as it's mom's payday, but I hope to see many link up.
I've been having a blast this last week visiting all kinds of lenses of interest.