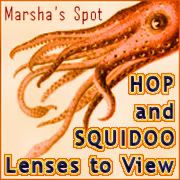 Happy Thursday!
I hope Spring is upon you now and no more snow!
Here in Kansas today it's the usual windy Spring Day out.
I made a sale this past week. Woo hoo! I don't get those often in my lenses.
Payday is right around the corner next week too.
I'm enjoying the Giant Squids google+ group tremendously......I just need to get busy updating and building so that I can do more listing.
I'm only 186 pts away from finally reaching level 70....working towards that level 75.
How is squidoo going for you?