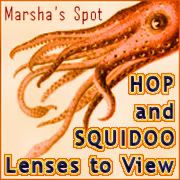 It's Thursday again already. I swear I don't know where the days are going. Here we are already almost to the end of March.
How is the weather in your parts? It's finally looking a little like Spring here. I don't believe there is any more snow in the forecast. It rained all day yesterday. Today it's sunny and on the windy side.
I didn't get any lenses updated or built this past week, but I have been to a lot of lenses.
Do we still have the limit of liking only 10 a day? I've not been sure, but have been wondering.
Anything else new with squidoo that I have probably missed?
I also need to get in to HQ and read more often.
One lens that I've not kept up with is the one that I was listing the charities to choose from.
Another one is where I list the last 10 lenses that I've built. I've built 11 or 12 since updating it!
Oh the work to do in squidoo.
Thanks to those who have regularly been linking up each week. If you have any ideas on getting more to link in, please let me know.