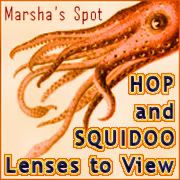 Welcome to the first day of Spring! We are going to have a nice Spring day here in Kansas.
Sorry I'm a little late posting this week. My computer was in the shop on Monday, then had to go back yesterday with the same problem.
I picked it up about 30 minutes ago and they tell me they fixed it for sure. I surely do hope so!
I've been using my husband's computer off and on in this down time, but not doing a whole lot of anything really.
I did build a new lens this past week, so I will share it in the linky along with another lens that I will choose.
I hope you all keep me busy hopping from lens to lens and also to blogs with link ups this week. :)
Happy Squidooing!!