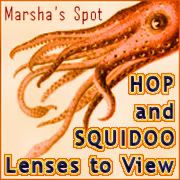 How is everyone this week?
I'm still using not feeling well as to why I'm not getting much done. That's not the only reason though. My computer is being whack. I am scheduled to take it in on Monday. Within 45 minutes something is causing it to slow to a crawl. I am having to restart it over and over all day just to regain speed for a bit. It's quite frustrating to say the least.
It's stopping me from getting to many of my websites, including squidoo.
I was glad to see payday even though mine was just $6.32 plus the 10% that went to charity. A few sales in December for Christmas gave me most of that.
I know that payouts for lensrank have been down for quite some time now. I still don't know on the lenslets how they, or if they, pay as far as lensrank.
If you know, that would be a good comment for this week.
In the meantime, please do share your any posts you have made about squidoo over this past week as well as choose 1 or 2 lenses that you would like to share.