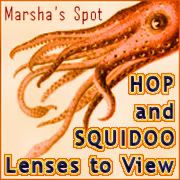 How have you been doing with squidoo? Did you make yourself any goals for the new year?
In my card file on a daily card, one says build or update a squidoo lens. That would be nice, but instead I have changed it to do something squidoo related.
I haven't updated, or built any lenses this week. I have, however, been visiting squidoo daily.
This blog and visiting those who link up will be my squidoo related today.
I will be building more lenses, book reviews for sure. I have made myself a challenge this year to read 52 Books in 52 Weeks. A lot of those will be made into lenses.....I'm kind of excited about that prospect too.
If you would like to read more about my challenge, it's posted over on bubblews.
52 Books in 52 Weeks 2014 Challenge.
I got a headstart on my goals and challenges for myself, and I feel like I am going in the right direction. I just need to STAY in the right direction. I'm thankful for online friends who have already been encouraging me and will continue to do so.
I can't wait to see what is linked up this week. This week I am choosing again 2 link up my 2 bottom lenses in lensrank.