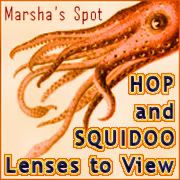 Christmas is right around the corner!
How are you doing on having your gifts ready?
I am making a lot of the gifts that I am giving, but not as many as I should have been making.
I didn't get started soon enough. I hope that 2014 brings a lot more craft time for me.
I also hope that next year I am able to do some online shopping. I do mean shopping throughout the year, not just in December!
I've not spent too much time in squidoo this past week. I plan on working it a lot more in 2014. I will know more on that in March and April as we see pay then for January and February.
Choose 1 or 2 of your lenses to share with us this week, plus any blog posts you have done about squidoo. I think this week I will choose 2 of my lenses that are at the bottom of my lensrank scale.