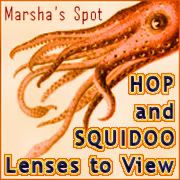 I am back!
I have let my blogging here slide for months. In fact, I have let Squidoo slide for months as well.
It was when I hit upon the email about re-applying for Giant Squid that prompted me to get back into my lenses. I seen that email days after it came in while attempting to catch up on my email.
I am behind on doing reviews and have a stack of books beside me to do. Why not make them into lenses and re-apply for Giant?
Here's me story. First of all, I was confused. Tons of modules have just disappeared. Most of them I wouldn't miss as I never did use them at all. I did miss text with big picture. With help from members of one of the squidoo facebook groups I am in, I was able to find me answers. Thanks!
However, it wasn't until I only had one more module to fill in on my book review that a member of the group chimed in to ask me if I realized that I needed to use the review format to build the lens. Nope....I didn't. Looks like I still need to do 3 review lenses, but that's ok.
I also read in a bubblews post yesterday by sandyspider that to re-apply we also have the option of using the new recipe format or DIY format. I have done some craft posts on bubblews where I did step by step how to do make something, with photos......would it be acceptable to take those and also make them into lenses? It would be duplicate content for the most part, eve if I do some re-arranging and re-wording.
I think I have posted all of the recipes that I can think of into lenses already. Maybe I could take one of my recipes from my frugal lens and highlight it into a lens.
I will figure something out.
Let's get on to sharing!!! If you have done a blog post about squidoo, please link those up. Also link up one or two of your lenses. Your choice on lenses to link, but if you have used any of the 3 new formats, please do link those up. I want to see what they look like. Thanks!!
p.s. Nonersays (Winona) does a weekly blog with a linky for squidoo as well. She does hers on Sunday's. This means even more exposure for our lenses. You can find her blog HERE!