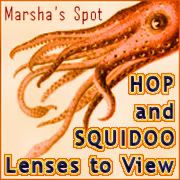 Good Thursday lensmasters!
There are a few things I want to talk about this week.
I'm still having trouble "getting into" squidoo. I've been in and out, returned a few comments, looked at other lenses-----didn't update even one of my own. I keep saying life will slow down and I can concentrate more on my online ventures......it's not happened yet.
So far none of my lenses are flagged, or locked. I did read a post on bubblews though saying that bubblews has been black listed by squidoo. You know what I have to say to that?? BOO!!
When I thought gather was going to be gone, I planned on taking what I had from gather linked in my lenses, post those things over to bubblews then switch out the links.
I did save a bunch of stuff to word and in my pictures, but had only gotten on thing written on bubblews. I had switched out that link on the one lens in one list.
I now know that once I go to update that lens again, it won't publish unless I take that one link out. ggrrrrr why do things have to be so difficult?
I also want to tell you about Ruth's new facebook group for lensmasters as well. You can find the group here: Squidink Gone Postal
Here is what the group is about:
SQUIDINK gone POSTAL is on a positive mission! Our vision is to see Squidoo lensmasters go postal!

We want to see SQUIDINK postcard lenses, postcards through Squidoo Postcard publications, your own personally designed postcards, and SQUIDINK postcard exchange via snailmail.

If you love Squidoo and Postcards, come join the SQUIDINK fun!

*****

You DO have to be an active member of the Squidoo community to join this group.

Do NOT exchange mailing address through the group. Please do so privately for security purposes.

Please do NOT add members to the group. Many, myself included do not care to be automatically added to groups. DO invite all your Squidoo friends to check out the group and join!

DO share Squidoo lenses that have to do with the topic of postcards.

DO share your own postcard creations, such as those you create in Zazzle and CafePress. However, please limit these shares to 1 per day.

Please do NOT just drop links and run. We want you to share your links but more importantly we want you to enlighten us as to why you are sharing the link.
Ruth is working hard to put this group together. It's going to be fun and productive!
Here is even the lens she built about the group. (I will also add the lens to the linky as well)
Squidink Gone Postal
My big news this week is my newest grandbaby :) No, I can't help but share a picture here too!
Meet Killian Von born 6/26/13 at 6:24 am. Weighing 7 lb 5 oz and 19 1/2 inches long.
Now for the linky!