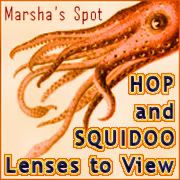 What have you been up to with squidoo this past week?
I have made it in to return comments. I know everyone doesn't do this, and also not everyone comments.
I notice that I have been getting views on quite a few of my lenses....I even made a sale in one of my lenses!
Starting next week, I am pledging to myself to look at my activity and also work to return views as well. I am also going to update at least one lens each day.
I still have my huge list of possible ways to update lenses.
I have been impressed this last month or so that none of my lenses have gone below 300,000 in rank even though I've not been active like I should be. I still don't have any lenses in tier 1 or 2, but quite a few in tier 3.
Share 1 or 2 lenses of your choice this week. If you also blogged about squidoo, please also share those links as well. If you blogged, please feel free to still link up one or two of your lenses as well if you would like.
Thank you for your participation!