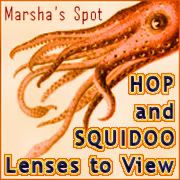 Please tell me that Spring might really be here this time!
They say there is to be no more overnight freezing temps---and no more snow, sleet, or other winter weather. I really do hope they are right!
I am leaving soon to go out of town and bring my middle daughter back with me to help get our garden going. (We do have covering planned for nights just in case).
This week I am asking that you share any lenses (1 or 2) that have to do with Spring--the season, gardening, flowers, events, etc. Maybe the weather will get the hint!
Please share any blog posts you have written in regard to squidoo as well over the past week.