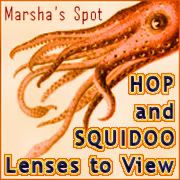 Coming off of vacation week, I am going to make this an anything goes week on the lenses that you share in the linky.
I am going to share the 2 that are on the bottom of my list. I have spent very little time in squidoo the past couple of weeks. I plan on more than making up for that today with small updates to several of my lenses, catching up on comments, and catching up on clicking lenses from these blog posts. I do also hope to get a new lens built today as well. Can I do it?
In the comments, if you've learned something new in squidoo over the past 2 weeks, share it.
Thanks!