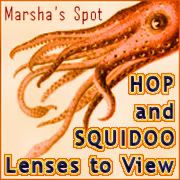 Merry Christmas!
I won't be doing a post next week. I just wish to enjoy the holiday week with my family and friends :)
This we
ek it's not only anything goes on the lenses you choose to post, but I also wish for you to post up to 5 lenses instead of just 1 or 2.
Let's end the year with a squidoo bang--helping each other with views and such :)
I can't wait to see what everyone posts.....and remember

that this linky will remain open for a full week.
Thanks to all who help support my linky and each other each week. You are appreciated.