Well....you know me, I never did make it back in to my craft room since my post last week.
I did work on some things outside of the room, just never what I would really like to get done.
I worked on knitting the prayer shawl for church. I had hopes of getting it done, but it didn't happen. Knitting, for me, takes so much longer than crocheting.
I guess I did get in to my craft room, because I did the machine quilting and made the binding for the baby quilt I am working on. I've taken it in the van with me a couple of times and have worked on sewing on the binding while I waited on others.
And, here we have day 298, October 24, of the granny a day challenge blanket I am working on. I tried to take the photo so that you could see the corner I have left to finish. 24 more squares needed (and the edging) for this to be finished, then I will start on the pillow for the rest of the 2012 squares. I'm still anxious to get this done and on our bed.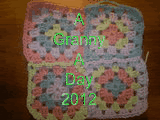 I am linking up with the following blogs: