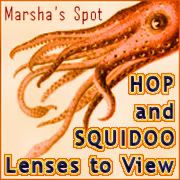 I'm doing it a little different this week. Instead of a theme, I would like you to share the latest 2 lenses you have built.
I know there is a lot of building going on with the holidays coming up! I've built 3 new ones and have at least one more that I hope to get done before tomorrow is over.
Please, if you blog, and you post a blog that has anything to do with squidoo, also share those posts in the linky as well.