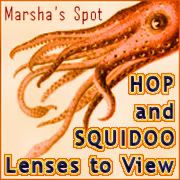 This week is all about the Kansas State Fair here in my city. That's prompted me to choose local attractions as this week's theme.

This can be an event in your town, your state, etc. Great things are happening all over!

Don't forget that if you blog about squidoo to also please link up your blog posts as well. This can be any blog where you have at least one squidoo link included, tips about squidoo etc.

Thanks for taking part each week. I enjoy seeing all the lenses that are linked up.