I am trying really hard to get into a routine where, no matter how busy my day is, that I make it in to my craft room each day.
After crocheting and crocheting granny squares, I realized again that I do not have enough yarn to make all the squares needed to finish out the challenge for the year.
I picked up some yarn from church yesterday. I'm knitting one prayer shawl and will crochet another one. I will then have the left over yarn from those for my granny squares.
Here is my granny square a day 2012 challenge blanket---day 242, August 29: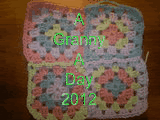 Here is what I got done on the knitted prayer shawl so far. Knitting is not really my thing. THe pattern states to knit 3, pearl 3 on each row. I tried that 3 times and all 3 times I just ended up with a confused mess. I thought it would be easy, but I gave up. I am just doing it totally in knit.
I completed my block of the month block. About time since Sampler is this Saturday. Nothing like last minute for me.
This is called Clay's Choice:
I did get my quilt pieces laid out for the quilt I am making for sewing club at church. I didn't do anything past get my lines for half square triangles on that pile of smaller squares that you see.
At quilt guild this week the speaker showed us a super cool pattern. I'm itching to start in on it. I do NOT need to start something new with still so many UFO's hanging around, but I will do it anyway. I even bought my middle fabric yesterday.
Off the top of my head I know that I have 3 sets of bibs to complete, 2 table runners, a child's quilt, the Halloween bags, and of course my crochet and knit projects as well. IF I can stick with my plan to work in my craft room every day no matter what, things will start to get done.
I am linking up with the following blogs: