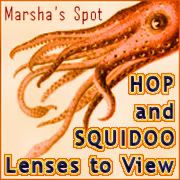 Did you miss me last week? Apparently I took some days off from blogging and actually didn't even realize just how many. I did a post on Monday to find I hadn't posted anything since the 1st!
I hope you all had a great 4th of July holiday. Ours was great with loads of family time, which is the most important for me.
I somehow, in my limited time online, managed to build a new lens one day. It's all about my favorite color, and is why I am choosing colors to be this week theme.
Please link up one of 2 of you lenses below that have to do with colors. No lenses about color? Link up one that you would like to share. If you have blog posts written about squidoo, please please link them up as well!
Have a great day!