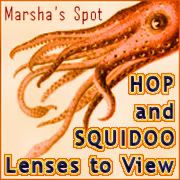 I'm still chugging along in my updating of lenses. I didn't get but maybe 1 or 2 transferred from one notebook to the other, so still about 60 that I've not updated yet at all in my adventure.
Lensmaster Ruthi had me put an attribute on my toothbrush rug lens stating that the photos in the lens were my own. That started me on a trek of going through all of my lenses with my own photos to put that blurb in. So far I've only gotten through the lenses that I had already transferred to my alphabetical lens.
Yesterday I spent a lot of time working on my charity donations lens. I watch the HQ posts when new charities are listed. I had only gotten 30 of the charities in to the lens when they took the module away.
As I am going through lenses, I am adding in manually ones that I didn't get to the first time. I doubt I ever get all of the charity choices in to the lens, but at least it's a good point to start for those wanting to know what each charity does.
On the charities, those are also being added to lenses that I hadn't gotten to yet as I do my updating. I try to choose a charity that has something to do with the lens if I can. Like Guitars for Vets on my music lenses, and something like Room to Read or First Book on the homeschool lenses. If nothing really goes with it then I choose something close to my heart like the Humane Society, ASPCA, or March of Dimes.
I'm still updating daily to the Helen Steiner Rice lens. I would love to see it make Tier 1 and stay there. Updating I know helps, but also need to get the word out about it more as well.
That is one thing that I don't do often enough-----get the word out about my lenses. I'm in 4 squidoo groups and that is the point of the groups---to share---yet I rarely do.
I do hope to see lots of you link up this week. I tend to get lost in squidoo once I get started with it. I hope this is a good thing and will "pay off" for me. I really must find a way to make a good income.
Thanks for reading! Link up below.