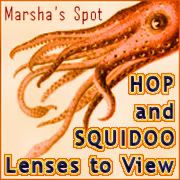 I am still working on learning about these copyright issues. I want to share a couple of stories with you today.
The first is with my Helen Steiner Rice lens.
Ruth informed me that squidoo is no longer allowing us to post full song lyrics, or poems in our lenses. They would like us to only print a portion and then link out to the rest. (Can anyone direct me to the full information on this please?)
I have been working on my music lenses to switch out the lyrics this way, but stopped to do Helen Steiner Rice.
Knowing that her poems are copyrighted, PERIOD, I still had left part of the poems and then just picked the first of many websites that had the entire poem posted, to link over to. (Yes, Ruth advised me against doing so)
It was when I went to attribute the photos in the lens.......The only photos were on the HSR Foundation page. I emailed them to ask permission to use the photos in my lens and attribute them back to the foundation page.
Results? An email stating that I do need permission, but also permission to post the poems, even if not in their entirety. Their major concern other than them being highly copyrighted is that if anyone can just go online and see the poetry then they have no need to buy the books and therefore it hurts the foundation on raising money.
She also went on to tell me that only a few places have the rights to HSR's works and they have paid to have that right.
She said she seen that I was also selling posters, cards, and mousepads with the work of HSR on them. She asked for more information on these sales. I replied and explained that those are designs by other people in zazzle. I am affiliate of zazzle and if someone clicks from my lens to buy the product I make a small commission for directly them to the item.
My reply back was that even though that was not my own work, but work of others, they did not have permission to use HSR on their items. Therefore, if they sold and I made a commission, I would still be copyright violation. She asked that I remove them completely and contact the people who made them telling them to remove their items from zazzle.
(at this point I felt like the emails were getting on the rude side----it wouldn't be up to me to take care of the items in zazzle, but the foundations! However, I did pass the information on to zazzle, and as of yet have not gotten a reply from them. )
So.....I did remove the poems (I had already taken the photos out before asking permission) and replaced them with a box listing some of my favorite ones. I then put each book in it's own amazon module. (I need to go back and make those amazon spotlight modules)
I was nice in my emails back and forth, thanking the lady for her help and being patient with me as I learn about copyrights. Her last email to me was also nice. She thanked me for my honesty and integrity.....as well as thanked me for cooperating and taking the no-no items off of my lens.
However........in the end in the email it was noted that about 5 years ago their corporation had decided they were going to go after everyone online who was sharing the HSR. What they found out was that the attorney fees just to get the process were astounding, so they backed down and didn't do anything. And, because of the fees involved to stop it, they will not pursue copyright violations.
With all that said...yes, I could go back and change my lens, but I'm not going to. I will stick with doing what I know is right in this instance. If I had the $300 fee to pay to post poems and photos, I would gladly pay it. One, it would help my lens stay at the top, but also I love the work of Helen Steiner Rice so I know the money would be going to a good cause.
Let's take a break in my post here to tell you about Ruth's new blog hop! It's called SIS: Shares in Squidoo and will be posted each Sunday. Please click the button to find out the details. I know I plan on hopping along!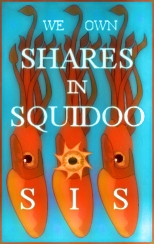 On a better note-----I also had contacted author Randy Alcorn asking permission to use a photo of him from his webpage in my book review lens of his book If God is Good. He replied back right away giving me permission to use the photo. Also saying I was welcome to use any of the photos on his pages.
I replied back with a thank you as well as asked if there was anything else he would like me to share in the lens. His reply was that it looked good, but he would like to see me use the about the author info from his website over the wikipedia info that I had in there. Not that there was anything wrong with using the wikipedia, but just that the info on his page was more up to date.
All well and good :)
Sorry this post is so long to read today, but I hope it has helped others out there like me :)
I am still updating away. Some over and over. Some lenses just the few little things as I work transferring lens pages from one messed up notebook to one where I am putting the pages in alphabetical order. Would you believe that I still have 60 lenses to work on to move over??
I am sharing both the HSR and the If God is Good lenses in the linky this week. I do hope you will visit as well as give me opinions please. Thanks!