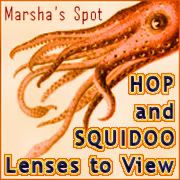 Good Thursday to all. A huge thank you to all who participated last week by adding lenses to the weekly linky. I'm glad to see more joining in, and I enjoy clicking over and checking them all out.
Last night I was brought to tears-----don't worry, they were tears of joy.
Those of you who read this blog on a regular basis know that I have been wanting to apply for Giant Squid 50 for some time. I've hesitated as I kept working on updating and building a few more lenses.
I wasn't sure if I was ready to apply yet---had I done enough updating to say that I had 50 terrific lenses? I went ahead and "bit the bullet", and applied. I didn't have confidence in myself though as I figured I would be turned down and would have to wait another month to reapply.
OMG! Can you believe it? Not only did they approve me for Giant 50, they also made me Giant 100!! I seen the points for each in my activity section. Immediately I went to my email to look for the notices. I am so very very pleased and happy to have made it. I'm excited that I will finally be getting one of those coveted Squidoo T-shirts too!
I will continue with my updating as well as getting new lenses built here and there. I'm learning a lot with the help of a lot of other webmasters out there. I love the facebook groups as most everyone is really supportive and willing to help. Thanks to all of you.
I had one purple star lens from way back when I was Giant Squid 100 before (before they took that all away and you had to reapply in stages) and that was Blankets for Christmas. This time around they chose my Helen Steiner Rice lens to give the purple star to. I am sharing both of those in the linky this week.
Have an awesome week everyone, and post away!