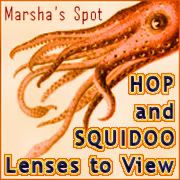 Another lesson learned for me. As most of you know, I had a heads up warning on my Learning About Japan lens. I had no idea why and I sure was fretting about it. I went to the largest squidoo group on facebook and asked others to look at it and tell me what was duplicate---after all, the pop up box told me that it was duplicate content that was the problem. Lots of lensmasters checked it out and none could see what would be duplicate content.

Here is where the lesson comes in. It wasn't even a matter of duplicate content, but instead a matter that I had nothing in the lens except things for sale! As soon as I put in a text list module, which lists the things we are learning along the way that interest us....the heads up went away.

However, I am still confused and will have to pay more attention from now on. It seems to me, that especially lately, I am seeing more and more lenses that are all about things for sale. Nothing personal in the lenses. Does it have to do with the fact that text modules are being used to put in html for things for sale? I know that I put a photo in a text with big picture and that didn't change the heads up.

I am relieved that it's taken care of, and I want to say thank you to those who took the time to try to help me figure it out.

I'm still on my goal of putting at least little updates into all of my lenses, and getting them transferred from one notebook to the next. Mainly I am working in the intro, re-sizing the intro photo, attributing it if necessary, and adding a charity to donate 10% to if that's not been done yet. I still have 39 lenses to go before my transfer of notebooks is complete!

Some lenses I have worked more on, and several of my lenses pretty well get regular updates. It's a lot of work, but I do hope in the long run that the pay off will be well worth my efforts.

I'm going to close for this week, we need to run out to watch my granddaughter "graduate" from Headstart. I am sharing a couple of lenses in the linky this week that I spent the more time on updating. Link up with me!