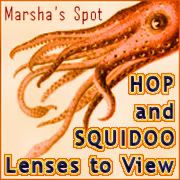 Well, my mission was a failure. If you remember last week, my mission was to really get to work on making the This Day in History lenses.
I got out a paper to start one---it sat on the couch next to me all week!
The thing about making lenses is that even if you know just what you want in the lens, even if you have the body of it cut and pasted, it still takes well over an hour to put a lens together. At least it does for me. I've been so busy that the extra hour hasn't fit in to my schedule.
Can someone come give me a kick start?
I did look at, and comment, on lots of lenses as usual. It's pretty easy to get lost in squidoo if I am searching for something specific, or just viewing lenses to return comments, or viewing what is posted to the facebook groups. Oh yes, and the lenses linked up in last week's hop. A huge thank you to all of you who took the time to link up last week. I hope to see more and more join in. I didn't get to all of them yet, but I will!
I did edit my Learning About England lens. It's the final update until Jasmine returns home from her trip with photos for me to add. Her trip is March 20-28.