Still frustrated over lack of time for sewing, I only sewed this past week Friday night at Sit N Sew at the local quilt shop.
I managed to get 6 more covered composition notebooks done towards my
Christmas
gifts. This makes a total of 23 done.
I intend to make 35 total as that's how many notebooks I have, however, not all of them will be used for Christmas.
I know for sure that the pink with the girls on it is going to my 13 yr old granddaughter. I'm really thinking the pebble print should go to my 8 yr old grandson as he is constantly
collecting rocks
in his pockets.
I fully intend to sew this evening, and both Friday and Saturday evening. Wish my luck to get these done! With any luck, maybe next week's post can show that they are not only done, but also wrapped!
Sales in my Etsy shop are not as I had hoped they would be. I've only sold a set of the
microwave hotpads/cozies
this week. I am still in hopes of selling the 2
double towel scarfs
that I made with the Christmas print fabric.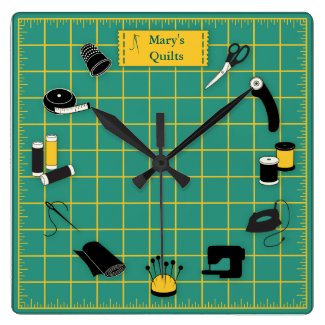 Quilt Time Customize the Label Square Wall Clock
by
pomegranate_gallery
In the meantime, I am linking up with the following blogs:
Jo's Country Junction:
http://www.joscountryjunction.com/
KatieMae Quilts for BOM weekly linky.
https://www.katiemaequilts.com/blog/