Seems we've been eating pretty well this week, and at a very small cost. I love it when I plan comes together. Ok, so there was no real plan, but it all worked out the same.
A couple weeks ago hubby did extremely well when he picked up a pork roast on sale for just $5.75. I cut 9 chops (3 meals for the 2 of us) as well as left the end for a 4th meal. The 4th meal ended up being pulled pork sandwiches. Oh so good!
I had fixed the first 2 sets of 3 pork chops in the crock pot and added half the bag of Uncle Ben's Flavor Infusion Rice towards the end of cooking. The Uncle Ben's was a Friday Freebie with Dillon's (Kroger).
While on the subject of the Friday Freebie, don't miss out on this week's
Free Jell-O Simply Good at Kroger & Affiliates
When I went shopping, I first looked thought the Ibotta app to see if there was anything I could try to get towards suppers that I could add to my rebates there.
I marked several things, but only ended up getting 2 of them.
I bought a box of 6 White Castle Sliders with a 50 cents rebate. At $4.97 a box (not on sale), that is not the most frugal thing...not even if you subtract the 50 cents I will get from ibotta).
However, hubby and I each ate 2, along with macaroni salad and potato salad that a lady in the quilt guild sent me home with from the Christmas party.
It made a very filling meal and hubby was able to have the other 2 sliders as part of his supper last night while I was out babysitting for grandchildren.
I also chose to get Reames Frozen Noodles with a 70 cent rebate from ibotta. $2.39 for those, not on sale. I wondered over to the marked down meat section and found a package of cubed turkey for $1.99.
Hubby fixed up a soup adding a can of carrots and chopped onion. Voila! Supper for 2 nights.
We had the last 3 pork chops one night with the rest of the macaroni salad and potato salad.
It's a new month, and time for me to scroll through the Ibotta app and see if there is anything I can put on my list to help with suppers this week.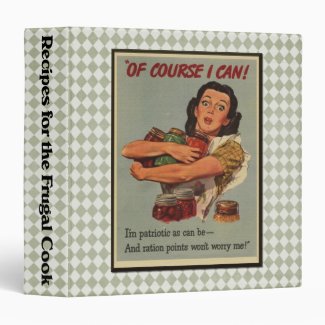 Recipes for the Frugal Cook Patriotic Binder
by
cowboyannie
I would love to read about your "cheap eats" and so would other readers. I hope you will link up any posts you have on frugal recipes!