I sure do love the quilt retreats. I love how I get more sewing done in 2 (or 3) days than what I usually get done in a month.
I always come home and just want to keep on sewing, but life just doesn't allow me that LOL
What to start with----I worked on several things, but only finished one little thing. I guess that's a good starting place.
I wanted to see just how easy it was to make the composition notebook cover as I want to make those my Christmas gifts this year. It was really easy, and here is the one that I finished.
5 years ago I had my daughter buy me the Braid in a Day Pattern with template when Pat Knoechel (Eleanor Burns' sister) was at our guild. I had won a Moda Sweet Roll pack in a blog giveaway, so put it in the project bag with the pattern. I finally pulled that down and took it to the retreat as one lady in our guild is a certified Quilt In A Day teacher and told me she would help me if needed.
Now that I know how to do the braids, I really look forward to doing more. These are with the 1.5 inch jelly rolls instead of the 2.5 inch, and I plan to make 2 into a baby blanket and the 3rd one into a table runner.
I didn't get around to getting out my blue scraps, but I did take along my green string blocks and finished those up. I still need to get to the blue before I start putting these together.
I brought along my flannel pieces and cut what I could from them as well as sewed some of them together---together as the 2 together, ready to start sewing rows. I still don't have enough of either for a full blanket of either size so I will be on the lookout for more flannel when I am out and about.
I worked on adding yo-yo's to the first valance. I have just 3 more rows to put on to finish the first one. I'm back to making the yo-yo's for now, and dividing them into bags to ensure that I have some of every fabric in all 3 items. I really need to work daily on these if I expect to have them done in time.
I feel very blessed to have won so many things at the retreat. In the silent auction I won 4 rolls of wrapping paper, and the 4 charm packs that were in the basket. The other small things were in a basket for everyone to take something free. I was sent home with everything that was left in the basket. I never won a single game of Left Center Right that we played with the 2.5 inch strips, but I was sent home with all of the strips that were left after we were done playing the game. (oops! The strips aren't in my picture either, but there is a very large stack of those that I plan to use most of making more braids)
I also won another door prize on Sunday that I forgot to take a picture of. It's a roll of 100% cotton batting and a bag of supplies that include quilt pins, pencils, chalk lines and a chalk marker. I'm super excited about the batting because it means I can get back to making the microwave hotpads again.
The next retreat I get to go to is at the end of October, and I can't wait!
I link up with the following blogs: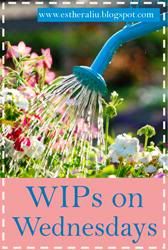 Jo's Country Junction:
http://www.joscountryjunction.com/