I actually had my machine out---twice this past week!
The first time was at the quilt shop for sit n' sew. There I got the 5th of 10 rows added to my Arkansas Crossroads quilt. Then I sat and figured out just how many more half square triangles that I need to complete the rest of the blocks. I am a little sad that I still need to make 70 more.....I should grab those and start working on them once I get this post done.
The second time was here at home.
I worked on the space themed coasters and got another step closer to finishing the green string blocks.
My friend found a couple smaller pieces of black and white fabric in her stash and gave them to me. I'm heading Friday to the Kansas City Regional Quilt Show so I knew I had to get the black and white with a little red quilt top out and see if what she gave me would be enough to finish the blocks. I wanted to know as to know if I needed to be on the look out for more while at the show.
Yes! I was able to finish the remaining 14 blocks. Hoping to work more on this quilt over the next week.
And, last, but not least, I got more work done on the yo-yo projects. I put a few more yo-yo's on to the first valance, but the lighting was so bad that I was having a terrible time working with the invisible thread. I decided to get more yo-yo's made instead. I still have quite the pile of fabric in my box to make in to yo-yo's.
If I can continue to have this much to show each week, I will feel like I am actually accomplishing something! Wish me luck!
I link up with the following blogs: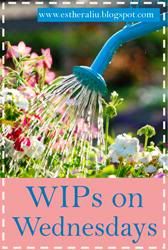 Jo's Country Junction:
http://www.joscountryjunction.com/