I did get several more yo-yo's made, but decided not to bore you with yet another picture of bags of yo-yo's.
I had the sewing machine out but didn't do any more work on the green string blocks. I did, however, get the half square triangles sewn and cut...next up is to press them open.....that's my goal for this week.
The sewing machine was out to finish the black and white with a little red quilt. Yes, I said finish!! That means that 2 of my 17 UFO's on my list to complete in 2017 is now done.
Not sewing, but I've been saving toilet paper rolls for some time for an idea I seen on pinterest to make a Hot Wheels garage. I knew I wanted to make it for Killian for his 4th birthday. His birthday was this past Monday and he loved his new garage.
I overslept and missed the bus to Kansas City. I'm still kind of bummed over missing the big quilt show, but was more bummed that I didn't get to work on my hexagons on the bus as I had planned to. Since this month's color with the soscrappy blog is yellow, I decided to at least go through my box and get out any yellow.
I link up with the following blogs: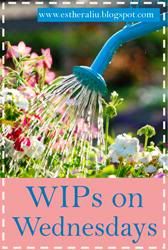 Jo's Country Junction:
http://www.joscountryjunction.com/