It was a horrifically busy week this past week. Sadly I only worked on sewing just one day. That wouldn't have even happened if I hadn't thought to take my yo-yo's with me as I ran the church rummage sale.
So, here you go, my progress on one valance.
I must stay busy on these, and I mean daily, even if it's only adding 2 or 3 on the super busy days.
Sit n' sew is Friday at the quilt shop, so God willing I will make it there to get more work done on the Arkansas Crossroads quilt top.
My friend gave me a bit of black and white fabric so that will be a help to finish that quilt. I need to buy just one more fat quarter and that should be all I need.
I'm looking forward to checking out the soscrappy blog to see what this month's color is.
I link up with the following blogs: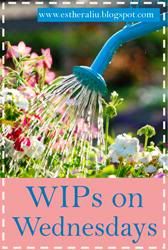 Jo's Country Junction:
http://www.joscountryjunction.com/