As usual, I had a wonderful time at the quilt retreat and I feel like I got a lot done with all those hours of dedicated sewing time.
The first thing I made sure to get done was my President's block for the outgoing President of our guild.
I then got out the red string blocks and got those finished. I plan to start putting the quilt together after getting one more color of string blocks made.
I then did some fixing and adding to my guild challenge. I'm very pleased now with how it is----and it's ONE out of 17 of the 17 UFO's in 2017 that I can actually say is done now.
Then it was time to bite the bullet and finally get this Charming Stars top worked on. I am pretty proud of myself for sandwiching it and then actually taking the hours it took to machine quilt around each star. Hopefully I really will finish it in the next couple of weeks.
Last, but not least, I was able to get 2 more rows on to my black and white with a little red quilt. Again, I didn't have enough black and white to make all of the blocks. I'm anxious to finish this and really hope that it won't take me until the next retreat to work on it!
Haven't stitched a thing since Saturday night, but cross your fingers for me that I get the yo-yo's out when I am babysitting this week and get some work done on those!
I link up with the following blogs: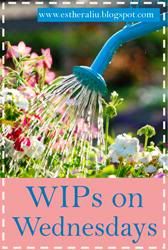 Jo's Country Junction: http://www.joscountryjunction.com/