I had hoped to get my sewing machine out this past week, but it didn't happen.
I went into my room and started bringing out fabrics and batting to cut for the string blocks. I ended up bringing out flannels for a couple of blankets I want to start too.
I cut what I needed then what was left of the piece of fabric I cut as well for other projects.
You can see that I cut 10 inch solid colors. They are for the back of a quilt that needs to be finished.
I cut some 1 inch strips for a locker hook runner rug that I want to start.
I cut strips for another toothbrush rug.
I have a stack of 5 inch squares to add to my 5 inch stash.
I have both 7 inch and 10 inch flannel squares for a start on those blankets.
And....I have my stack of green strips with batting and backing for my string blocks.
Wish me luck that I make my goal of getting out my sewing machine today and working on these projects!!
I link up with the following blogs: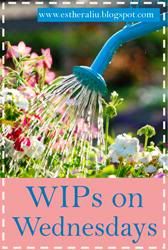 Jo's Country Junction:
http://www.joscountryjunction.com/