Ha ha! I never get done in a week what I would like to, that is for sure.
I did manage to at least get through my scrap bag and pull out green for this month's scrap color with the soscrappy blog. Literally though, I do think I have at least 50 different green fabrics if not more.
I did my frog stitching and started hand quilting around the edges of the Charming Stars quilt. I really had hoped to have this done by the 22nd for show and share at quilt guild, but it's not looking very likely.
I cut more felt circles for my penny rug. I even managed to find the lost bag of circles. Not quite all of my circles in the picture, and I also have lots of them pinned to the blanket as well. So anxious to get so many projects done.
I link up with the following blogs: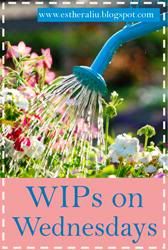 Jo's Country Junction:
http://www.joscountryjunction.com/