I had plans to work on one of my UFO's from my list of 17 at sit n' sew Friday evening at the quilt shop. Unfortunately, sit n' sew was cancelled due to the owner having the flu. I wasn't good and didn't take it out and work on it at home anyway.
I did get my paper pieced stars sewn together for the quild challenge. Now I'm working on how I'm going to do the backing.
Still plugging away on my 365 and making 3 yo-yo's each day. Still wanting to start putting them together......still thinking I need to wait until they are all made.
Yesterday was sewing club day at church. Rather than sewing together the blocks that were already made, I decided to start hand sewing more squares instead. I will probably continue with this until I use up what is already cut of the squares.
I didn't do any work on the selvage toothbrush rug, but a friend gave me some more selvage to add to my bag.
I still want to get back to making the string block for the soscrappy blog challenge. Maybe, just maybe I can get out my scraps and at least pull out for the color of the month......after clicking over to find out what the color is this month!
I link up with the following blogs: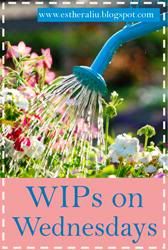 Jo's Country Junction:
http://www.joscountryjunction.com/
Adiyday: