It's more like I just need to take more time to dedicate to sewing. I just can't figure out how to do that with so many other things going on and a lot of that my attempts to earn money.
I wasn't going to put a picture of the selvage rug since I only added a few strips to it, but out of habit I took a picture anyway, so here it is:
Still plugging away making 3 yo-yo's each day. At least you can see that my bags of yo-yo's are growing. I'm up to 5 bags of them so far.
I have the 6 paper pieced star blocks sewn together but now I am working on the other 10 blocks in step by step order instead, all at once. Hoping beyond hope to find time to get the sewing machine back out today!
You can see my list of my 17 UFO's for 2017 challenge in the right side bar. If you want to see the list with pictures you can see my post here:
http://marshasspot.blogspot.com/2017/01/wip-wednesday-17-in-2017-challenge.html
I link up with the following blogs: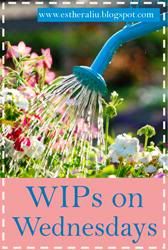 Jo's Country Junction:
http://www.joscountryjunction.com/
Here is the book I am using for my paper pieced star as well as paper piecing paper!