I loved being at the quilt retreat and having that dedicated sewing time, as always!
I have my black and white with a little red quilt that I've only worked on at the retreats. I was in hopes of having enough black and white to finish both the front and back this time, but no such luck. I still need to make 29 more blocks to have enough to finish the top then more for the backing as well.
The first picture is my rows so far on the front, half of them put together. The second picture is what I have for the backing so far.
Finished sewing together the halves on the design on the Lexington quilt top, now just need to figure out the borders.
I also finished sewing together the halves on my colorful quilt top and also have to figure out what I am doing for the borders on it as it's smaller than I want it to be.
I also was able to get 2 more rows put on the Arkansas Crossroads quilt top.
One kind lady who cane to the retreat had cleaned out one of her sewing closets and had items on a shelf for us to take as we wished. I took some 10 inch and 5 inch squares of fabrics as well as cotton batting in both sizes as well. Once home this prompted me to at least get a good start, with what I already had prepared,, to making more sets of the microwave hotpads.
If I could get this much work done at home each week, I would be elated!!
I need to go check out the soscrappy blog. It's my understanding that there will be no color for November and December, and that instead these are the 2 months to work on making quilts out of the blocks we have made throughout the year. Since I didn't keep up each month, and because I didn't start the string quilt blocks until August, I plan to pick a color for this month from a month that I missed.
I also need to get really busy figuring out, and making, Christmas gifts!!
UFO's:
Rectangle quilt
challenge wall hanging
Hexagon quilt
Emerald Island Fusique table runner
Five and Dime quilt
Brown half square triangle table runner
2 sets of doll blanket, pillows, bed and rug
Wall hanging for quilt guild
yo-yo's that need to be made into projects
black and white rail fence quilt
Arkansas Crossroads scrap quilt
T-shirt latchhook rug
Charming Stars quilt
Special crocheted prayer shawl
Fall Squares table topper
Crazy colored quilt with the five and dime blocks
Rainbow colored string quilt
St. Patricks yo-yo table topper/runner
Lexington quilt
? Fabric boxes for Christmas gifts
? sets of microwave hotpads
I link up with the following blogs: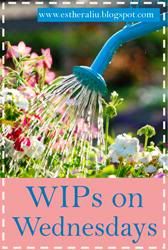 Today I am highlighting more books that I have for sale on half.com. These are all cooking related.'