I had a brain slippage when I got out of bed yesterday morning. It wasn't until noon when I realized it was Wednesday and I had put up another blog post instead of this one.
I have still been working away when I can on my projects. What you won't see pictured are the selvage strips I am still gathering to start a selvage rug, the thin strips I added to my doll rug bag, and numerous other strips and squares for future projects.
You also won't see any progress on yellow for this months color with the soscrappy blog color challenge. I did get my back squares and batting squares cut and hope to have those blocks made by next Wednesday.
I finished the Christmas yo-yo table runner, which will be listed in my etsy shop once I am done with this post.
I worked more on the doll rugs for the bedding sets, and I also got to work on getting some of the pillows done for the sets as well.
I found the last 3 colors for the lockerhook rug that I a working on and got them sewn and ready to finish up the rug.
On the quilt shop hop each shop gave us pattern for a disappearing block. I only seen 2 that I really wanted to make, so I did just that. I like them! One is disappearing 4 patch and the other is a disappearing 9 patch. In the meantime, I seen a blog last week where she made fabric boxes for a quick homemade gift. That got me thinking about Christmas and I plan now to make some of the boxes.
Also on the shop hop I bought a postcard pattern. I needed something inexpensive to buy to spin their prize wheel, on which I won a spool of 100% cotton thread. The pattern I chose uses 2 1/2 inch strips. You guessed it, I just couldn't wait to start on it since I already had a stack of strips cut. The pattern is called Lexington and I hope that by next week I will have have at least one of the blocks out together for it.
UFO's:
Rectangle quilt
challenge wall hanging
Hexagon quilt
Emerald Island Fusique table runner
Five and Dime quilt
Brown half square triangle table runner
? sets of doll blanket, pillows, bed and rug
Wall hanging for quilt guild
yo-yo's that need to be made into projects
black and white rail fence quilt
Arkansas Crossroads scrap quilt
T-shirt latchhook rug
Rainbow colored locker hook rug
Charming Stars quilt
Special crocheted prayer shawl
Fall Squares table topper
Crazy colored quilt with the five and dime blocks
Rainbow colored string quilt
Christmas yo-yo table topper/runner
St. Patricks yo-yo table topper/runner
Lexington quilt
? Fabric boxes for Christmas gifts
I am too late to link up with the blogs this week, but I hope you will check them out: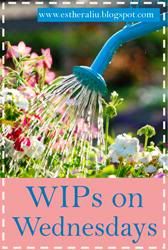 Here are a few more of the book I have for sale on half.com that may be of interest to you: