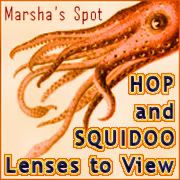 Sticky notes are still my friends while working each day to update at least a few lenses.
I've changed it up though. I was just making one note on a sticky note. Now I've been looking through the whole lens and making notes on what needs to be changed or what can be added. Some lenses are taking 2 sticky notes!
I'm currently sitting at 19 WIP's. Not bad at all since I did have 55. Once I get through my WIP's I will start going through all of my lenses making sure to keep up with updating every day....at least that is my ultimate goal here.
How are your lenses doing?
I'm going to share 2 of my lenses today that are just below the 85,000 ranking. I look forward to seeing the lenses that you share with us too.