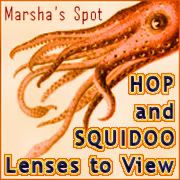 As the
Books For Kids Contributor on Squidoo
. Ruthi put out this page the past week:
This prompted me to go to the children's bookshelves in my room.
She has highlighted my new lens at:
I also ran across several lenses this week that need to be updated....I made myself a little list. I will pick one of those to share in my linky, along with my newest lens.
Here's to a great squidoo week!!